School Pictures for GJHS will be Monday, Oct. 7. If you need a picture form, come by the main office and fill one out. Students, SMILE!

Wrangler Families, the Flu Clinic is Tuesday, Oct. 8. If you would like for your student to receive the vaccine, please complete forms. If you need a form, they are in the main office.

REMINDER: School picture day is this Monday, October 7th. Picture forms should have been sent home earlier this week. Pictures will be taken during the student's Social Studies class period.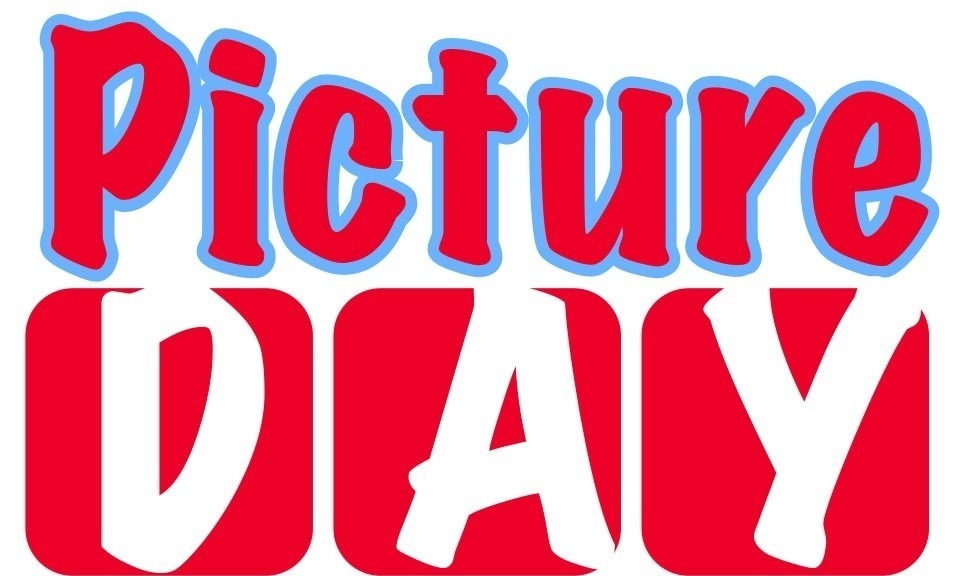 GJHS parents, do not park in fire lanes to pick up students after school. When we have a medical situation, emergency vehicles need to be able to access our building. Do not park in the fire lanes. Pick up your child on the north side of the building in the parent pick up line.

GJHS Parents: Thank you for a great turn out for Parent/Teacher Conferences. If you were unable to attend, yet want to meet with teachers, please contact the office (750-8750) for available times. A huge thank you to parents who donated desserts for teachers. They were delicious!


GJHS Parent/Teacher Conferences are tomorrow night and we are asking for volunteers to provide desserts again for our teachers. If you can help us out, please contact the office at 750-8750. Thank you in advance! See you at conferences!

Parents, Parent/Teachers Conferences are tomorrow evening, Sept. 25th at GJHS from 4:15 - 7:15. Plan to attend with your child. Complete lunch forms, Wednesday is the last day to eat on last year's information. Sign up for the Flu Clinic happening Oct. 8th. See you there!


Volunteer Opportunity at GJHS! Parents, please help support our teachers during conferences. We are asking for donations of desserts for each night of conferences, Sept. 23rd and 25th. Contact the GJHS office, 750-8750 if you can donate. Thanks!!

Parent/Teacher conferences September 23rd and 25th from 4:15 - 7:15 pm. Plan to attend with your student. This will be a great time to sign up for the Flu Clinic happening on October 8th and complete lunch applications. Last day to eat without penalty is September 25th.

Young Adult books for $2! Come to the Book Fair at GJHS during Parent/Teacher Conferences, Sept 23rd and 25th from 4:15 - 7:15 pm. Find your favorite author or genre, take home some books, read all month!

GJHS Families! We will be hosting Parent/Teacher conferences Monday, Sept. 23 and Wednesday, Sept. 25 in the Arena of GJHS. These will begin at 4:15 pm and will be over at 7:15 pm. Please bring your student and meet their teachers.

Next week is Wrangler Spirit Week! Here are the Spirit Days for next week! We look forward to seeing all the amazing outfits to show off your Wrangler spirit! #WeAreGeorge #FearTheG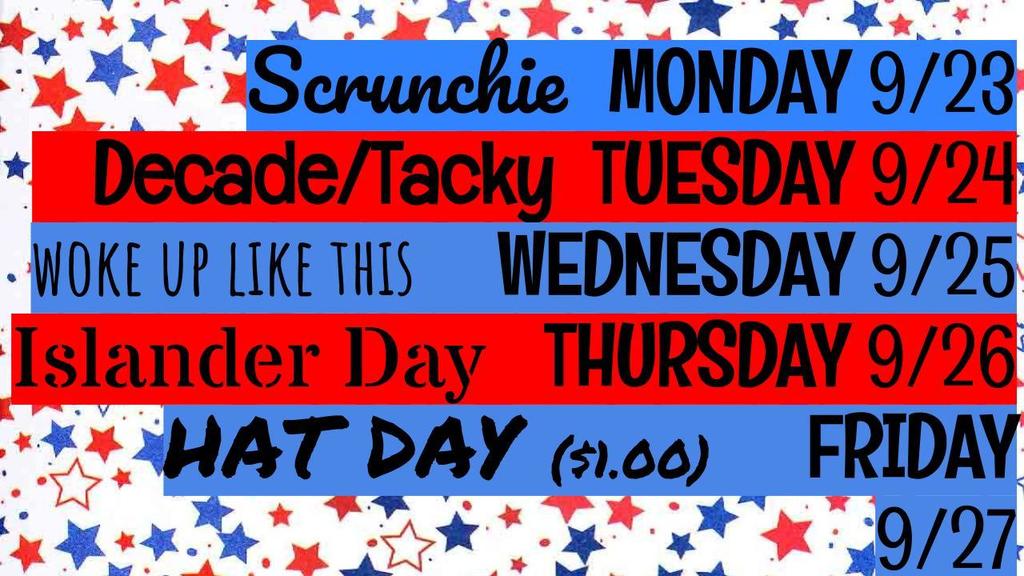 Parent/Teacher Conferences for GJHS will be held on Monday and Wednesday (Sep. 23 & 25) of next week from 4:15 - 7:15 in the Arena. Please plan to attend with your student.

If you have nothing to do tomorrow night and don't feel like cooking, please go by Raising Cane's in Fayetteville between 3:00-8:00 pm and help support the George Wrangler football team. Mention the fundraiser at the register or drive-thru and Cane's will donate 15%.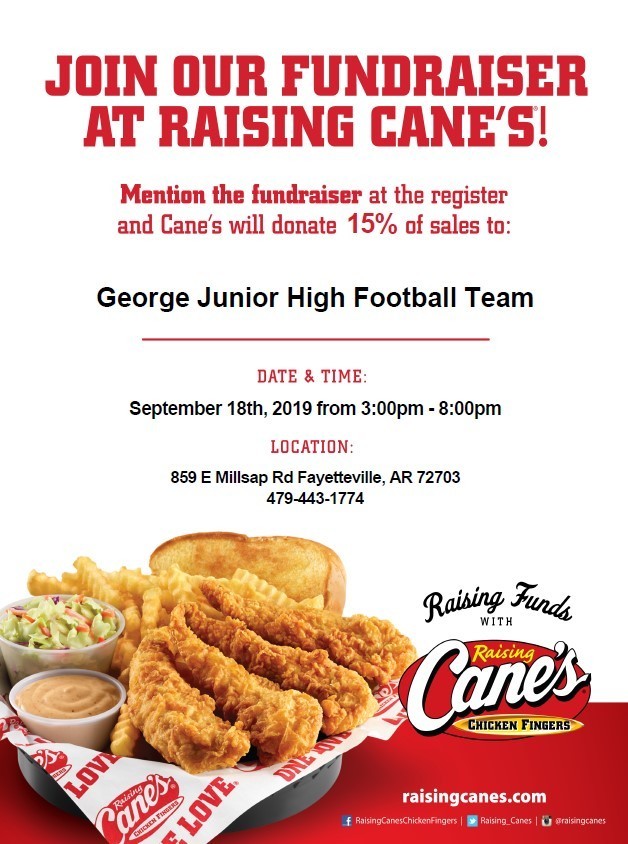 If you plan for your student to take the PSAT, please make a payment of $15.00 by Wednesday, September, 18th. For questions contact GJH 750-8750.